Be Kind to Your Body: A Case for Yoga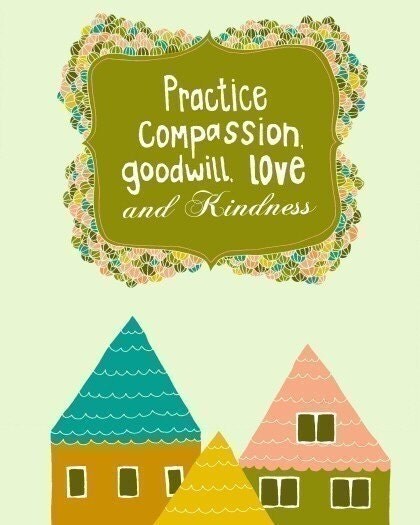 (Image via Etsy: Dazychic's store)
By Kelly Schauermann, CPRYT, Yoga Instructor, Potentia's Yoga Coordinator + Founder of Beulah Wellness
In the past weekend I have come across 2 separate forms of media that emphasize the danger of yoga. As a yoga instructor and practitioner, there is a bit of me that wants to turn defensive at anyone that puts down a practice that has changed my life.
But when I allow myself to step back, and listen to the wisdom and words of others, I see a greater whole that definitely needs to be addressed. In a way, this mirrors my post from Friday about grace; but this grace is more specifically for your body.
What I have gathered from these different sources is not that yoga is necessarily bad to practice. There are SO many different styles and levels, it's likely that just about anyBODY can find a physical practice (Asana) that will enhance their journey to knowing their bodies. Instead, it's more about being cautious.
I was speaking to my husband about this, and I likened it to skydiving. I have been once, in the Swiss Alps, but not alone. Having never been before, I had to go tandem, or I probably would have died. Since you don't know what you're doing, but you really want to learn to skydive, you find people that are well trained, certified and knowledgable to help guide you through the process. You don't jump onto the first plane you can catch, strap on a parachute and jump, right?
Yoga is the same way. In the West, yoga has become so prolific, that it's difficult to know if what you're doing, where, and with whom, is going to benefit your body. But here's the thing: yoga isn't necessarily about finding your guru, accomplishing the splits or being vegan. It's about being present FOR, and listening TO yourself. If you are practicing that, you will know, from the inside out, that how you're moving your body is helpful or harmful. If you get consumed with the competition and fitness aspect of yoga, you will likely stop listening with the same intent, and get injured.
A wise teacher, Soleil Hepner, who I have had the pleasure of meeting and gleaning wisdom from put it very well: the word YOGA (in this NY Times article) should be changed to ASANA. She gives a great explanation of her thoughts on her blog, and it's well worth the read, but it essentially states what I have mentioned here all along: Yoga is more than just moving your body. Asana is prep for meditation, as a part of the 8 limbs of yoga. Asana is an opportunity to value your body as an innate teacher during your precious time on earth. Seen in that light, wouldn't you like to do everything you can to care for it?!
So, have some grace. If you are in Down Dog and your hamstrings are screaming bloody murder, bend your knees! If you have a sensitive neck, don't practice shoulderstand, please, dear God, don't practice it. If one day you can touch your toes, and the next you can't, it's OK. We aren't judging you, so maybe ease up on yourself and question the judgment you may be passing on yourself.
All that said, relish every moment of your practice this week, whether seated in meditation, upside down in headstand or resting in savasana. This journey is a lovely one, and you don't want to miss it.
xo- Kelly
NY Times- "How Yoga Can Wreck Your Body"
PS. If you want to check out Potentia's Yoga classes make sure to register soon, as space is limited.
Please follow and like us: